Isokinetics Webinar Series
How to effectively use an isokinetic machine in physical therapy and sports medicine.
Thank you for supporting our webinar series! These recordings of the live webinar will remain hosted here for future easy viewing.
Watch the Recorded Webinars​
Episode 1, Recorded Jan 31, 2020
History of isokinetics and basic applications
Episode 2, Recorded Feb 21, 2020
Clinical applications of the various training and testing modes for ankle, knee, hip, shoulder, and elbow/forearm pathology
Episode 3, Recorded Mar 22, 2020
The science behind mobility training with patient specific training video.  They also instruct you on how to navigate and interpret the software biofeedback to maximize your treatment techniques
Episode 4, Recorded April 18, 2020
John and Daniel discuss and demonstrate how to use an isokinetic dynamometer for stability training through isometric exercise
Episode 5, Recorded May 16, 2020
John and Daniel discussed and demonstrated strength training with isokinetic exercise with a focus on eccentric loading and deceleration training
Episode 6, Recorded June 20, 2020
Daniel discussed and demonstrated how to use the Isotonic mode of exercise on a dynamometer for neuromuscular control, strength, and power training
Episode 7, Recorded July 18, 2020
Daniel discussed and demonstrated Isometric testing in the clinic and the training room. He also reviewed an Isometric Test Report.
Episode 8, Recorded August 2020
Daniel and John will discuss and present isokinetic testing with up-to-date research accompanied by a video demonstration and data interpretation
Episode 9, Recorded September 19, 2020
Daniel and John will demonstrate an Interrupted Stroke Test (IST) and a traditional Isokinetic Test with test report interpretation.
Episode 10, Recorded October 17, 2020
Lower Extremity Isokinetic Plan of Care
Episode 11, Recorded November 21, 2020
Daniel and John will continue their discussion on the ankle and will then provide a typical Isokinetic plan of care for shoulder pathologies including rotator cuff repair, SLAP repair, and non-surgical shoulder pain
Episode 12, Recorded December 19, 2020
John and Daniel demonstrated dynamometer applications for Blood Flow Restriction training and wrap up/review the webinar program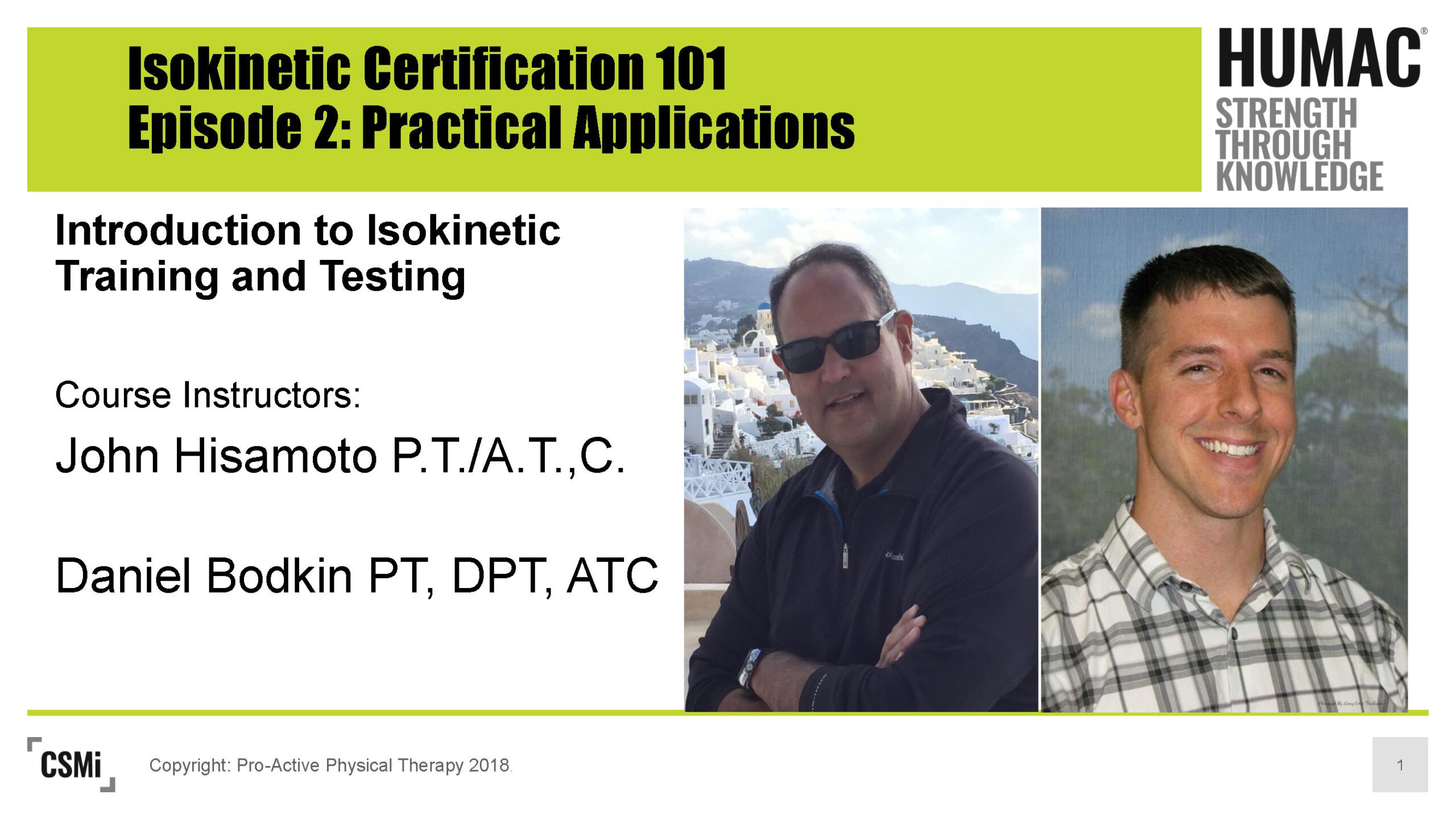 Access the webinar slides by filling out the short form below.